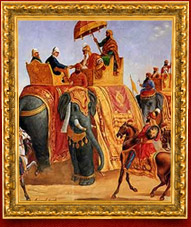 The Bikaji Group
Enter Bikaner. A town nestled in the Thar Desert of Northern Rajasthan, that's world famous for its traditional snacks of Bhujia, Papad, Namkeen, etc. And the House of Bikaji, with its flagship company, Shivdeep Food products.

Enthusiastically led by Managing Director, Mr. Shivratan Agarwal who is ably assisted by his wife, Mrs. Sushiladevi and son, Mr. Deepak, Shivdeep Food Products has grown by leaps and bounds. In fact, the Group itself has today diversified into the areas of Hospitality and purified bottled water. Flexibility, approachability, integrity and treating the customer as king- are just some of the values the Group possesses. Yet, its success is equally attributed to its loyal work force. Each one of whom proudly displays the same values, qualities and commitment as their employers.
Basant Vihar Palace
Basant Vihar Palace was built because of a 'fanciful desire' of his Highness Maharaja Sri Ganga Singhji, a connoisseur of art & architecture. It was designed by him as a pleasure garden adjoining the Zansana Bagh (Royal Ladies' Garden) of Lalgarh Palace. In 1993, the House of Bikaji converted this magnificent piece of architecture into a heritage hotel - Hotel Basant Vihar Palace. An endeavour to offer tourists a true flavour of history and royal living. Hotel Basant Vihar Palace to day remains a 'garden of eternal spring'.
Hidden away in a quiet area, the hotel is surrounded by well laid out gardens. Fragnant flower beds and soothing lily ponds. And though it is completely refurbished from the inside, great care has been taken care to preserve the original character of the rooms. There are a total of 31 rooms, of which 24 are Royal Deluxe rooms and 7 of them are Suites.