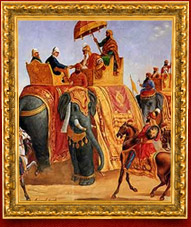 Bringing alive the true flavour of Rajasthan.
Known as the Desert City, Bikaner in the state of Rajasthan is an historic destination offering ancient forts and temples, the art and architecture of Hindus and Mughals, and the bleak yet awe-inspiring scenery of the expansive Thar Desert. Considerably developed from a tourist perspective Bikaner retains its traditional cultural charm. Situated on the Northern point of the triangle of Rajasthan's desert cities, Bikaner is a royal, walled city dating back to 1488. Founded and established by a Rathore prince, Rao Bikaji, the city came to be named after him. A fusion of history, religion, music, dance, arts and crafts, desert sands, exotic wildlife, blue-blooded royals and friendly civilians, Bikaner's medieval charm attracts tourists from far and wide.

Climate
Bikaner is situated in the middle of the Thar Desert and has a hot desert climate with very little rainfall and extreme temperatures. In summer temperatures can exceed 45 °C, and during the winter they may dip below freezing.