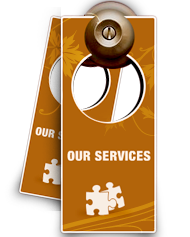 The jewel in the crown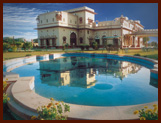 Basant Vihar Palace was built because of a 'fanciful desire' of HIS HIGHNESS MAHARAJA SRI GANGA SINGHJI, a connoisseur of art and architecture. It was designed by him as a pleasure garden adjoining to the Zanana Bagh (Royal Ladies' Garden) of Lalgarh Palace.

In 1993, the HOUSE OF BIKAJI converted this magnificent piece of architecture into a heritage hotel as- "BASANT VIHAR PALACE" an endeavor to offer tourists a true flavour of history and royal living. Hotel Basant Vihar Palace to day remains a 'garden of eternal spring' hidden away in a quiet area, surrounded by well laid out gardens with fragrant flower beds and soothing lily ponds. Though it is completely refurbished from the inside, great care has been taken to preserve the original character of the rooms. The contemporary design and understated elegance of the hotel embodies an artistic vision that runs through the entire hotel. There are a total of 31 rooms, of which 24 are Royal Deluxe rooms and 7 of them are Suites. We believe in personalised services to suit every guest's individual and unique needs. A team of personnel with rich industry experience complement the heightened vision of the hotel.

For the royal palate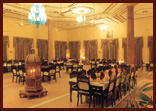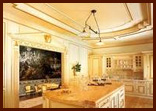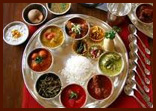 In the royal kitchens of Rajasthan, food was such serious business that it was raised to an art form. The chefs of Hotel Basant Vihar Palace continue this practice. Encouraged to experiment and excel, they whip up mouth-watering Mughlai, Chinese and Continental delicacies. As for Rajasthani cuisine, recipes passed down the generations are what we pride ourselves in.
At your service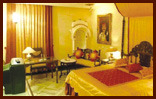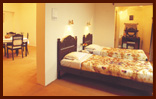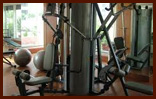 Great care has been taken by our team of professional experts to ensure that every guest's stay that is truly a memorable experience. We offer 31 plush and spacious rooms available in three categories: Royal Palace Suite Room, Royal Deluxe Room & Deluxe Room with the following amenities :
Open Floor Lounge at every floor for guests
LCD television sets with 24-hour cable connectivity
High speed WiFi Internet access
Fully stocked Minibar(Non-Alcoholic)
Kettle with complimentary tea and coffee provisions
Premier guest stationary with a working desk space
Specialized evening turn down service with daily morning cleaning
Round the clock restaurant with 24-hour room service
Marble finished bathrooms
Luxury Bath Linen, Towels & Robes
Hairdryer, Magnifying Mirror, Weighing Scale and all other necessary bathroom amenities on request.
BANQUETING FACILITY we have plush banqueting spaces that can host 30-80 guests respectively. Our restaurant can host up to 200 guests and also allows the use of the garden and outdoor deck up to 3000 guests. BUSINESS CENTER A well-equipped business center with equipment and amenities to meet all guest office needs providing comprehensive computer, internet, printing, scanning and fax services. CONFERENCE FACILITY we have three conference spaces that can host 20-100 people respectively. These rooms are spacious, private and quiet. The hotel provides for all conferencing equipment. HIGH SPEED WIFI INTERNET the entire hotel is WiFi enabled. DARBAR - A MULTICUISINE RESTAURANT Darbar hall has a beautiful ambiance as well as an outdoor deck and garden where guests can enjoy breakfast, lunch, dinner or all-day dining with a diverse selection of Indian, Continental, & Oriental cuisines. MEALS ON-THE-GO Guests also have the choice of ordering fresh pre-packaged meals prepared in-house to carry for days that they are on the go. MASSAGE FACILITY - Coming Up Enjoy a relaxing ayurvedic or deep tissue massage in the private massage room when you need to relax or unwind. SUNDECK a delightful open area for sunbathing or relaxing is located at the roof decorated with comfortable deck chairs and festive umbrellas. CAR HIRE & TRAVEL SERVICES the front desk provides facilities for vehicle hiring and planning travel itineraries to all guests. CURRENCY EXCHANGE We provide currency exchange services and accept all major credit cards. EVENING TURN DOWN SERVICE A specialised evening turn down service is provided for all hotel guests. LAUNDRY SERVICES the hotel offers speedy and hygienic services for laundry, dry cleaning, & ironing. MEDICAL SERVICES the hotel is equipped with basic level emergency medical care and OTC Drugs, available to all guests and visitors. We also have a Doctor-On-Call in case of emergency.
Tariff
Tariff
Single
Double
Extra Bed
Royal Delux Room
4500.00
5500.00
1,100.00