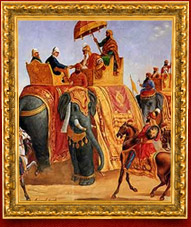 Anisha Ghurye
Bikaner is well known for its culture and heritage and that can be seen in this hotel. Its location is very apt and advantageous for your sightseeing plans. The staff was very helpful and hospitable. When we requested for special dishes they went out of the way to help us. I will definitely recommend it to others to come and experience this palace.
28th September 2010 7:40pm

Atul Vyas, U.K.
2. I am a NRI who was wanting a stop-over in between Jaipur and Jaisalmer, hence halted at this picturesque and inviting hotel! I am mighty highly impressed with the standards of the hotel and services they had to offer. The promptness and kind hospitality truly took me to another era altogether. Hope to stay for a longer time in my next visit for sure!
02nd January 2011 4:40pm

Dhaval Pancholi
This is a good hotel to stay in Bikaner. The staff was very helpful and prompt in all their duties. The room was clean and the food was purely vegetarian (Except for egg fried rice and omelette at breakfast). The rooms were spacious and big.
6th November 2010 4:40pm

Vishka Iyer, Banglore
My cousin had her wedding ceremony last year in Basant Vihar Palace and it was a surreal experience. Not only does it have an amazing view of the entire deserted city we were treated like completely royalty. The food and delicacies were lip-smacking especially the authentic rajasthani dishes. A true taste of the royal richness in the food. We came all the way from Bangalore for this and was a heartful experience as it was done in tru maharaja style. the rooms too have been done interestingly with a mix of old and new figurines! A must visit for sure
5th February 2011 5:10pm